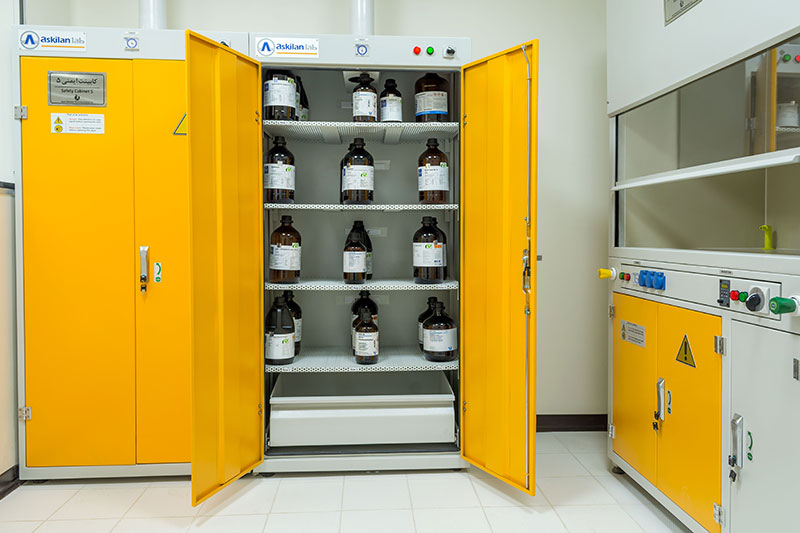 Technical information of material storage cabinet
The material storage cabinet can be used instead of the Combi chemical fume hood, a simple chemical fume hood, and a storage cabinet separately.
Material storage cabinet (steel body – 1.5 mm sheet)
– Instead of a Combi chemical fume hood, you can use a simple chemical fume hood and storage cabinet separately.
– Separate storage cabinet has all the technical features of the storage cabinet with a chemical fume hood (Combi) as follows.
A) The body is made of a 1.5 mm steel sheet with electrostatic paint coating.
B) It has steel mesh shelves with electrostatic paint for optimal ventilation of gases collected in the cabin.
C) It has an automatic handle and a lock for safety.
D) it has a 24-hour timer to adjust fan performance.
E) It has a fan to empty the accumulated gases in the cabin automatically and manually.
– The difference between this cabinet and the storage cabinet with the fume hood is in two cases:
1- In the standing type, they have a width of 97 cm, a depth of 50 cm, and a height of 185 cm, and in the countertop type, they have a width of 60 cm, a depth of 50 cm, and a height of 75 cm.
2- The approximate weight of its standing model is about 100 kg and its countertop model is about 40 kg.
For more information, you can visit the chemical storage cabinet page
Weighing table technical information
It is a completely separate table from the side and center scuba tables, in the middle of which there is an anti-vibration plate for placing sensitive digital scales. This separate plate prevents possible vibrations and measurement errors.
Weighing table (steel body – 1.5 mm sheet)
A) It is a completely separate table from the side and center tables, in the middle of which an anti-vibration plate is installed for placing sensitive digital scales. This separate plate prevents possible vibrations and measurement errors.
B) Body material made of steel with a thickness of 1.5 mm
C) Body-color of electrostatic type
D) It has a 45 * 45 stone plate with a thickness of 4 cm and a large volumetric mass for use for all classes of laboratory scales
E) It has two sizes:
1) With dimensions of 70 * 70 cm and an approximate weight of 82 kg with an anti-vibration plate
2) With dimensions of 70 * 90 cm and an approximate weight of 95 kg with anti-vibration plate and around the askilan plate